Founded in 1926 the ETR (Theological and Religious Studies) is published four times a year. Its reading panel transmits the scientific research work of the Protestant Theology Universities. In an effort towards clearer visibility the review participates in the debates which inspire the religious sciences and traverse the theological domain. By its specificities – biblical and exegetical, historical, philosophical and ethical – the review stands at an intersection of scientific practice beyond the history of Protestantism to embrace the vast domain of religious studies.
---
Last issue
Previous issues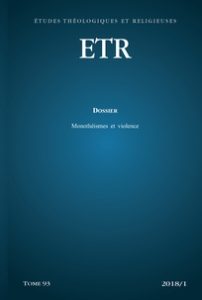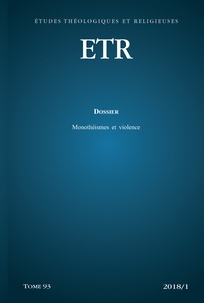 Dossier : Monothéismes et violence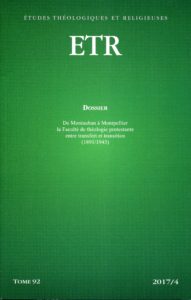 Dossier : De Montauban à Montpellier, la Faculté de théologie protestante entre transfert et transition (1891/1945)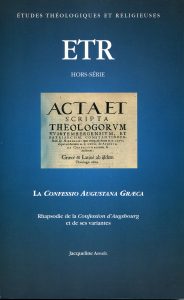 Ce hors-série des Études théologiques et religieuses, traduit et édité par Jacqueline Assaël, est publié, avec le numéro spécial 2017/1 du tome 92 consacré aux Textes réformateurs inédits réunis et édités par Chrystel Bernat, dans le cadre de la commémoration du 500e anniversaire de la Réforme. Il forme l'édition complète de l'étude de l'Augustana Graeca.
L'histoire de la Confessio Augustana Graeca est rocambolesque et passionnante. Composée en 1559, cette version grecque de la Confession d'Augsbourg a beaucoup […]
Discover our collection